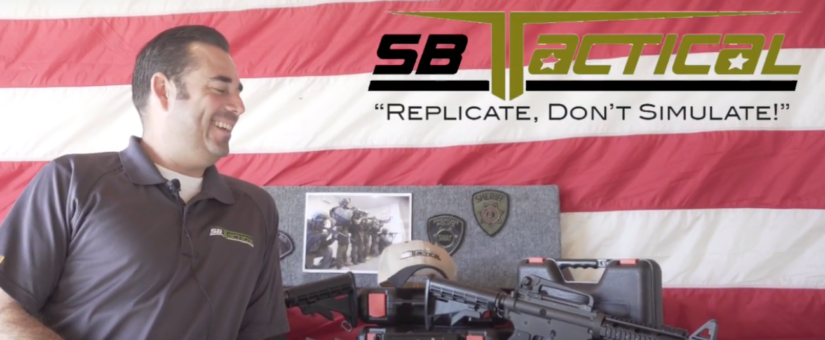 Realistic Training Saves Lives
As SBTactical approaches its fifth year in partnership with iCOMBAT we took this opportunity to briefly capture how we started, where we have been and the road ahead.  This video showcases a 5 year partnership that has changed how industry leaders approach force on force training. We have been fortunate to be the sole provider of iCOMBAT equipment to Law Enforcement and professional training agencies nationwide. Looking back on the last 5 years we are so fortunate to have partnered with such an amazing and innovative company and we are excited for what the future brings.
Jon Parra, owner of SBTactical, reflects on the last five years and their partnership with iCOMBAT at the new SBTactical headquarters,"It has been a great experience to be able to provide this service to Law Enforcement and the training community in a really unique way that hasn't been done in the past."  As Parra explains, "Currently we have about 75 different Law Enforcement agencies across the nation that have utilized the iCOMBAT equipment as part of our training program."
As Parra describes starting SBTactical, "It was one of the greatest challenges of my life following a 20 year army career. It has been a way for me to stay in the training industry and really bring a skill set we understand combined with the technology iCOMBAT brings. Their technology combined with our experience allows us to take Law Enforcement agencies to the next level with training."
Looking back on events like TacOps West with EOTech,  a college campus active shooter training with UCSB PD, a helicopter vehicle interdiction with Santa Barbara County Sheriff's Department led by Guerrilla Approach and many more, Parra feels fortunate and excited for the future of this great partnership, "We have been able to reach out and become partners with others in the industry and we truly cherish those partnerships and collaborations. iCOMBAT has proven they are an amazing company to work with. Their standards for builds are  unbelievable and their ingenuity and thought process in everything they do continues to impress us every day.
We look forward to continuing our partnership with iCOMBAT and growing with their new products. Stay tuned for 2017 new product release! We see no end to this product in the training industry.
Posted by SBTactical Team
On March 10, 2017
0 Comments