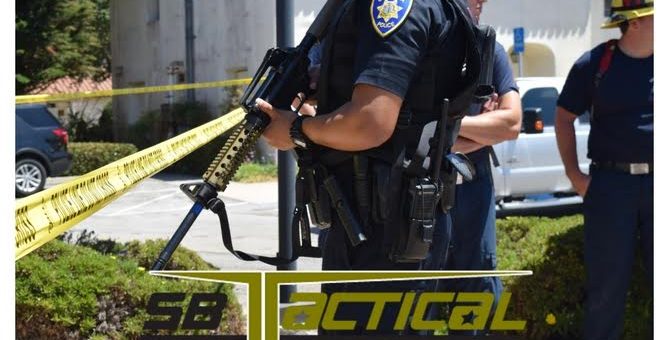 National Active Shooter Response Company Keeps Training Local with Gaucho Police Officers
SBTacticalTM is proud to have worked with the University of California, Santa Barbara (UCSB) Police Department for the fifth year in a row for their annual active shooter response training. SBTactical continues to be thoroughly impressed with the progression of preparedness the university is dedicated to, as owner Jon Parra illustrates,  "They have really stayed the tip of the spear and ahead of some of the even larger agencies that are out there with some of the new tactics, techniques and procedures that are happening."
Along with the campus police department on location, other first responders were active on the scene, such as the local fire department and EMTs. While the police department is there to secure the area and go after the shooter, they are also integrating better ways to bring in fire (department) in order to get medical attention quicker to shooting victims. As Parra illustrates, "Having these departments improves the actual active shooter experience seeing that they would be working with these agencies in a real situation, so the collaboration between these departments definitely enhances the reality of what they are training for."


As shown in the above video, the equipment and training SBTactical uses derives from a new (at the time) training platform, very similar to what most people today know as "laser tag". SBTactical took that concept and introduced it to the law enforcement arena. This was a smart move because they have since become the national distributors of this life saving training equipment. SBTactical is the only authorized distributor of this equipment for the  law enforcement and professional training community.


SBTactical's mobile training program and trailer serves as transportable storage for their equipment giving them access to work with agencies, not only in Santa Barbara, but across the country.
SBTactical is honored to continue to work with the UCSBPD. We are always satisfied with the progression and involvement seen from the local university law enforcement. SBTactical is strongly looking forward to working with them in the future as it will benefit the surrounding community at large.
Thanks,
SBTactical
Posted by SBTactical Team
On August 9, 2016
0 Comments