Breach Bang Clear: "Like Laser Tag for Grown Ups"
"Never before has a laser weapon of this caliber been created."
We were excited to see a feature on our training system that is shaping the future on Breach Bang Clear yesterday. Apocalypse Josh, who was able to fully test our iCOMBAT training equipment, reviewed each part of the system., as he explains:
"The iCOMBAT technology is a weapon, sensor and control system. It currently offers an M4 style weapon and a Glock style weapon, to better replicate weapons common among police and military units."
We were glad to hear that he believed the design of our irM4 "mimics an actual AR15/M4 rifle, including weight and size. You'll have to think twice when picking up the irM4, to ensure it's not an actual rifle." (Breach Bang Clear).
Breach Bang Clear also got their hands on our irPistol Pro, explaining how we offer, "the irPistol which is based on one of the most popular pistols in the world, the Glock17. Never before has a laser weapon of this caliber been created. The weight, function, and action are identical to an actual 9mm pistol. The irPistol can also be synced to the vest and used in conjunction with the irM4. It features a bright muzzle flash, the same live noise and recoil effects as the irM4, as well as real pistol action including a locking slide, and and the same ammo accountability as the irM4's SmartMag.
To read the full feature and review visit Breach Bang Clear today, and for more information on our equipment or to purchase please visit our PRO SHOP today.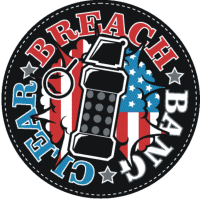 Big thanks to Breach Bang Clear!
Thanks,
SBTactical
Posted by SBTactical Team
On September 27, 2016
0 Comments