Realistic Training Does Not Have to be Expensive or Dangerous
Any instructor that is worth his/her own salt strives to provide the best quality instruction available to those that they are responsible for training. This includes providing the best training equipment and creating a training environment that thrives on officer learning. We find that instructors often feel limited in what they can provide by the resources that they have available. The SBTactical staff understands these frustrations first hand and we have centered our services to relieve as much frustration as possible. We believe that instructors should  be able to focus on solely on instruction. Our Mobile Training Program allows instructors to focus on core training tasks while we relieve your cadre of administrative time, safety concerns and high cost. The StressX belt and the iCOMBAT force on force training system are the heart of making your training more efficient, more realistic, and less expensive. With SBTactical you can conduct force on force training ANYWHERE and ANYTIME!

Step up the intensity with stress-based training. The StressX shocking belt delivers a pain penalty to the wearer when hit. It raises stress levels and ensures more tactical movement. Several configurations are available to simulate wounds, vibrate, and otherwise alert the operator when he or she has been shot. The StressX belt has standard shock and vibrate options built in, but can be configured in unlimited ways through the ICE software. It is all fun and games until someone gets shocked, then it's training time!
The StressX shocking belt is an add-on for the irVest and provides even more realism to your training by creating a pain stimulus when the user is shot. The StressX is a safe way to create stress-based training when using the iCOMBAT gear. Simply sync the StressX belt to the irVest, set your mode, and begin training. StressX is completely wireless and has a variety of modes ranging from vibration, mild, or strong shocks. They can be adjusted on the fly and customized depending on the role that the user is training as.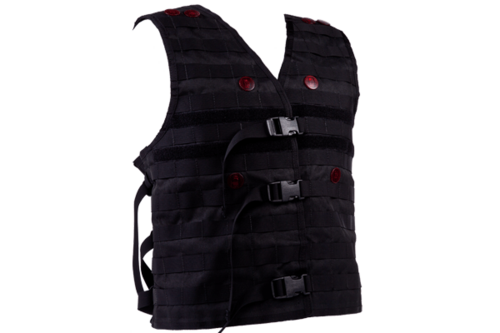 The belt is extremely durable and is capable of delivering a shock through one layer of clothing. Trainees can strap it on and go. As an option, trainers can also pair a heart rate monitor  with the StressX. This allows trainers to see the physical stress elevation within the trainee's body. The monitor works wirelessly with the StressX and requires no additional set up.
We are proud to say that our stressed based training system was featured in LAPD Chief Charlie Beck's blog and even more excited that the iCOMBAT training system is being utilized as a part of the department's new Use of Force curriculum. The StressX belt is one of the major pieces of equipment that is used in this training system.
At this year's NTOA 2016 in Louisville, Kentucky we received amazing feedback from tactical officers that  were blown away by the StressX technology and the training opportunities offered by using iCOMBAT in their training regiment.  The StressX belt provides immediate feedback using shock to induce stress during training.  It also provided plenty of entertainment for those willing to try it at our booth. 
ht
SBTacital is the sole U.S  law enforcement and professional training  distributor of iCOMBAT training products. We are a veteran owned business.  American Made – American Veteran Owned.If you are interested in learning more about the StressX belt and/or other iCOMBAT training equipment go here.
Thanks,
SBTactical
Posted by SBTactical Team
On February 6, 2017
0 Comments