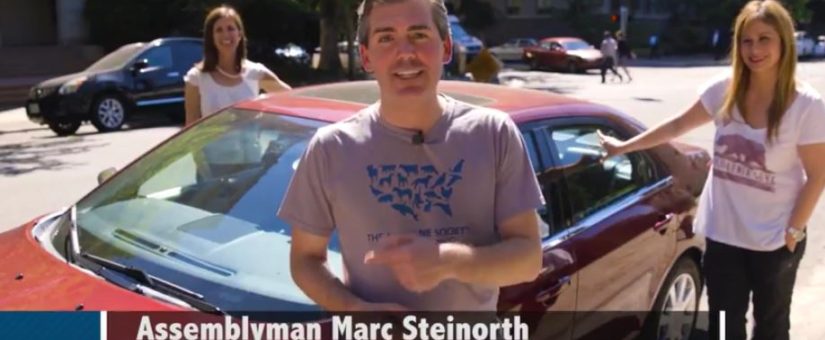 New Law in California Allows Bystanders to Save Dogs in Danger
The "Right to Rescue" Act, or  AB797, is a new bill being considered in California that would allow bystanders who see a pet in danger in a hot car to legally break the window to rescue it. The Los Angeles County District Attorney's Office is co-sponsoring the bill, conferring the legitimacy of law enforcement backing.  An earlier version of the bill would have also covered children in cars, but supporters decided the law already protects kids in those situations. This act was drafted by Assembly members Mar Marc Steinorth of Rancho Cucamonga, Ling Ling Chang of Diamond Bar and Kristin Olsen of Riverbank CA and the assembly bill legislation info can be found here.  As the Inquisitr states, "A person would legally be permitted to break into a car to rescue an overheated dog if the animal is in danger, they've determined the car is locked, and they've already contacted law enforcement."
The assembly members who drafted the bill together also made a video of them sitting in a hot car to show how threatening it is to leave a dog unattended.
New Role for Resqme® ?
This type of bill has become increasingly more prevalent, with 16 states across the country that now have laws protecting overheated dogs trapped in cars. One example of breaking a window quickly to save a life is one of our very favorite products, resqme® .  A local Santa Barbara-based company started by French entrepreneur Laurent Colasse created this life-saving and life-changing product to help contributes to the community at large.


Resqme® was originally developed for first responders (firefighters EMTs, law enforcement agencies); resqme® and has become an essential safety solution for all safety-conscious drivers. Now it can become a fast way to help save a dog in danger.
Check out the video that went viral for resqme® below and purchase yours today and be prepared in any situation to save a life of any kind.
Stay tuned for more updates, videos and articles and follow us on social media if you haven't already.
Thanks,
SBTactical
Posted by SBTactical Team
On May 26, 2016
0 Comments