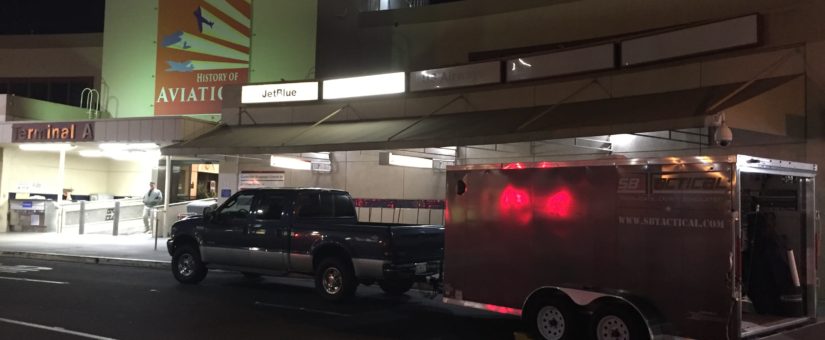 Series 1 of 3: An Interview with  Hollywood-Burbank Airport's Police Chief Ed Skvarna
SBTactical has been conducting Multi-Agency Active Shooter Trainings with various airport security and law enforcement teams across the United States. What is unique about this type of training is that it takes place inside the actual airport terminal by utilizing SBtactical's infrared and StressX force on force training systems. The laser-based system allows Law Enforcement Officers as well as other first responders to train as they would respond to a real life incident. Since the SBTactical system does not utilize projectiles, we remove the risk of damaging the terminal and participants do not have to wear unrealistic safety equipment.
Utilizing a three part blog series we will feature some of the airport's across the country that are capitalizing on SBTactical's training systems. Today we are featuring Hollywood-Burbank Airport  and Hollywood-Burbank Airport Police Chief Ed Skvarna.
Hollywood-Burbank Airport  International Airport
Hollywood-Burbank Airport International Airport is located in Burbank, CA, approximately 34 miles from Los Angeles International Airport (LAX). LAX had experienced an active shooter situation in Novemeber of 2013, when a man targeted TSA agents and the shooting scenario ultimately ended in 1 fatality of a TSA agent and 7 other non-fatal injuries.
Hollywood-Burbank Airport Police Chief Ed Skvarna had originally heard about SBTactical through one of the Santa Barbara Airport (SBA) directors of law enforcement who had used our training for active shooter drills and Skvarna soon contacted us.
Chief Skvarna explains their overall satisfaction with SBTactical, "In my 30 years of experience, cops aren't shy about pointing out any weaknesses with training and there were absolutely no complaints with this equipment. The iCombat equipment is fantastic!" Skvarna, whose team opts to use our mobile rental package as it is "better for us because we don't have to have anyone maintain, SBTactical doing the operating recharging and working is far superior service for us." (Skvarna)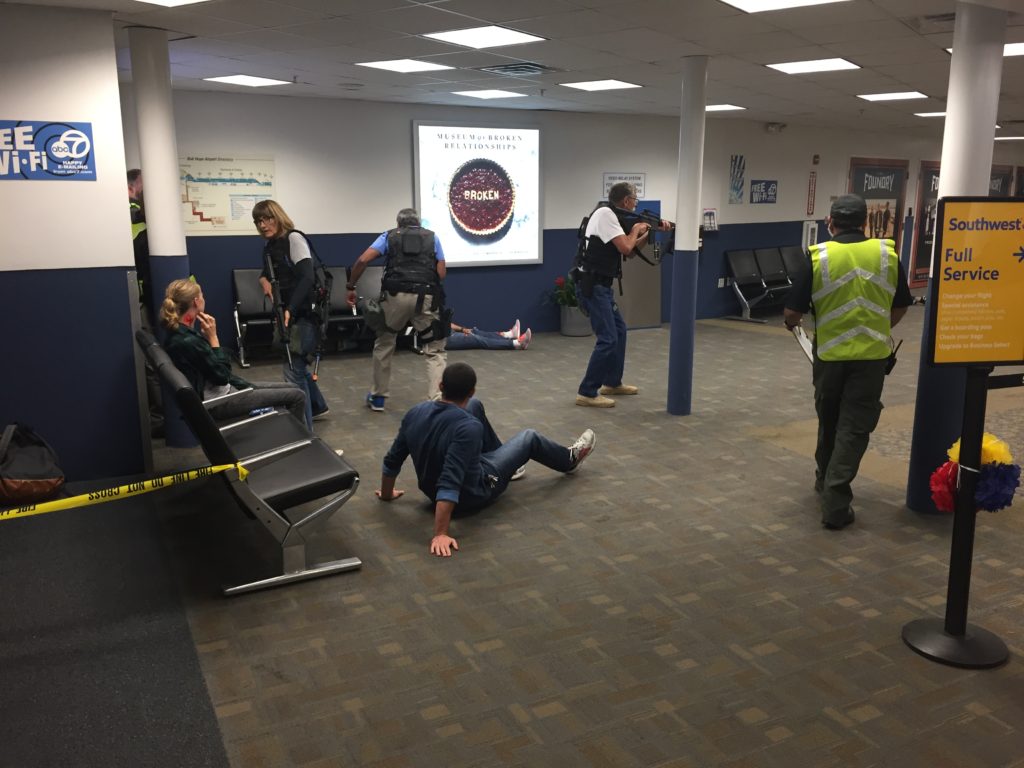 He comments on the SBTactical motto, "Replicate Don't Simulate", explaining how our system "Made the training more realistic and more valuable, the guns cycle like real guns do and (officers) have to reload, they look and feel the same, especially the irPistol Pro." One of the key ways our training system is different has always been the flexibility to train in the airport's own terminal.
As Skvarna agrees, "There is no pretending, the SBTactical training has enabled a familiarity between the officers and the weapons and has allowed the officers to move and operate with the weapons inside our own building and terminals with total safety. Being in our own terminal creates a realism that can't be matched."
For Skvarna and his team at Hollywood-Burbank Airport, this training has been much safer and the SBTactical team "Is great, they always bend over backwards, always come early and immediately get right to work, this is why we continue to use their training system and equipment year after year." Along with the airport police department on location, other first responders are active on the scene during these trainings, including the local fire department, EMTs, and dispatchers.
We look forward to working with Chief Skvarna and his team again soon. Stay tuned for part 2 of our series with San Francisco International Airport (SFO)  POL Supervisor Bobby Cheung.
Thanks,
SBTactical
Posted by SBTactical Team
On June 29, 2017
0 Comments