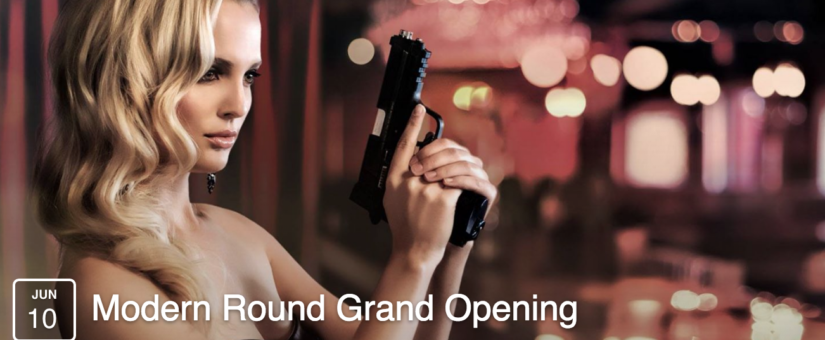 New Virtual Shooting Lounge, Entertaining and Empowering
Modern Round is a virtual shooting range in an upscale lounge setting. They are opening this weekend, June 10 in Peoria, Arizona. This lounge and restaurant  concept allow you to "shoot" virtually and be social setting at the same time, as Modern Round illustrates:
"It's just like shooting a real gun, but without the live ammo. Simulated scenarios put you in the center of the action. And the crafted food and drinks will ensure both your taste buds and trigger finger stay happy."
Modern Round created this concept to provide a realistic shooting experience in a safe environment. The advanced simulation technology being used at Modern Round was originally created for military and police training to help sharpen skills. They "partnered with leading firearms simulators to customize a consumer product that educates and entertains." (Modern Round, 2016)
Modern Round offers different memberships and lounge access passes. Members and passholders will learn from certified instructors in a safe environment focusing on helping them master the fundamentals of shooting and firearm safety. There are also training classes offered and provided for Modern Round Members.

Modern Round seems to be the best of both worlds, offering a cool place to practice your shooting and marksmanship, while also being in a fun, social environment where you can eat, drink and mingle. Interested in checking it out? More info on the opening and hours are here.
It has been an exciting journey for us at  SBTactical  to  work with  the Modern Round leadership team in developing  the replicated 'fire arms" for their simulators.
We are very excited about their opening and wish them all the best this weekend and beyond.
Thanks,
SBTactical
Posted by SBTactical Team
On June 8, 2016
0 Comments