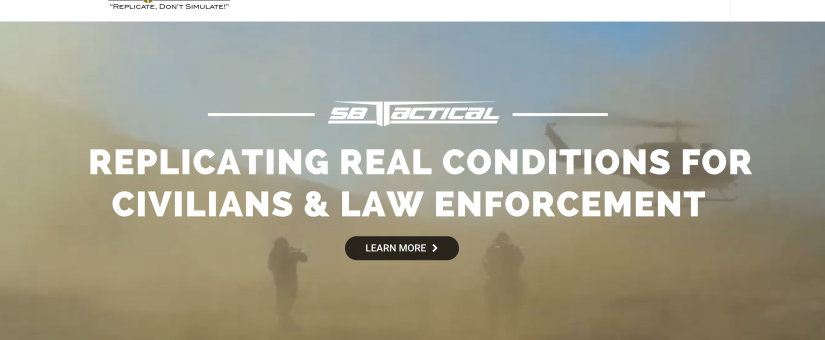 Local, veteran owned and operated business, SBTactical, is excited to announce the launch of their new website, www.sbtactical.com. SBTactical, a National Law Enforcement and Professional distributor of iCOMBAT equipment, is dedicated to supporting law enforcement agencies with the most effective active shooter training equipment available. Their new website is very visually stimulating, showcasing a custom video background of an actual on-site training. Simplified site navigation, veteran team bios, testimonials, parallax sections, innovative blog, and contact info offer a very user-friendly and client-ready experience.
SBTactical's approach to training is centered on the principle of replicating real world conditions as opposed to simulating them.  As local veterans and trainers, founder's Jon Parra and Todd Manes feel that they owe it to the professionals that they work with to provide the most realistic training possible. They also wanted a website and landing platform for clients and the community to be able to fully understand what they do and why it is so important. In their website bios, people can learn more about them, their unique experience and how to get in touch with them to set up a training, or to rent or buy equipment.
Co-Founder of SBTactical, Jon Parra explains, "I take great pride in our mission to support the tactical training of law enforcement officers. We have molded these training principles to apply to the unique training requirements of LE officers. The American Made iCOMBAT active shooter training system is the perfect training platform for us in every aspect of force on force training."
Training local law enforcement in the Santa Barbara community has been a true honor for this local business. Featured in a KEYT special report on responding to active shooter scenarios, "Saving Lives in the Hot Zone," SBTactical's equipment was utilized. As co-founder Todd Manes describes, "Being able to offer an awesome training platform to local and national Law Enforcement Officers has truly been an honor. Our equipment really does allow LE agencies to train anyone, anywhere, anytime, without valuable time (or money) going to waste."
Parra illustrates their latest local training,"The Santa Barbara County Sheriff Department was able to conduct Aerial Vehicle Interdiction Training using our iCOMBAT systems. By mounting sensors on the vehicle, officers were able to engage the truck from a helicopter with the irM4, a laser-based training rifle that replicates a real M4, including function and recoil."
"There is no other training system like iCOMBAT on the market. Our training program for both SWAT and Patrol Officers has become more comprehensive, more effective and more realistic since working with SBTactical, explains Lieutenant Mike Perkins, Santa Barbara County Sheriff, SWAT.
Learn more about SBTactical and the services they provide by going to their new website today. Check out more training video footage and photos on their new website. Follow them on social media.
Posted by SBTactical Team
On January 12, 2016
0 Comments