The Host of The Squad Room Shares His SBTactical Training Story.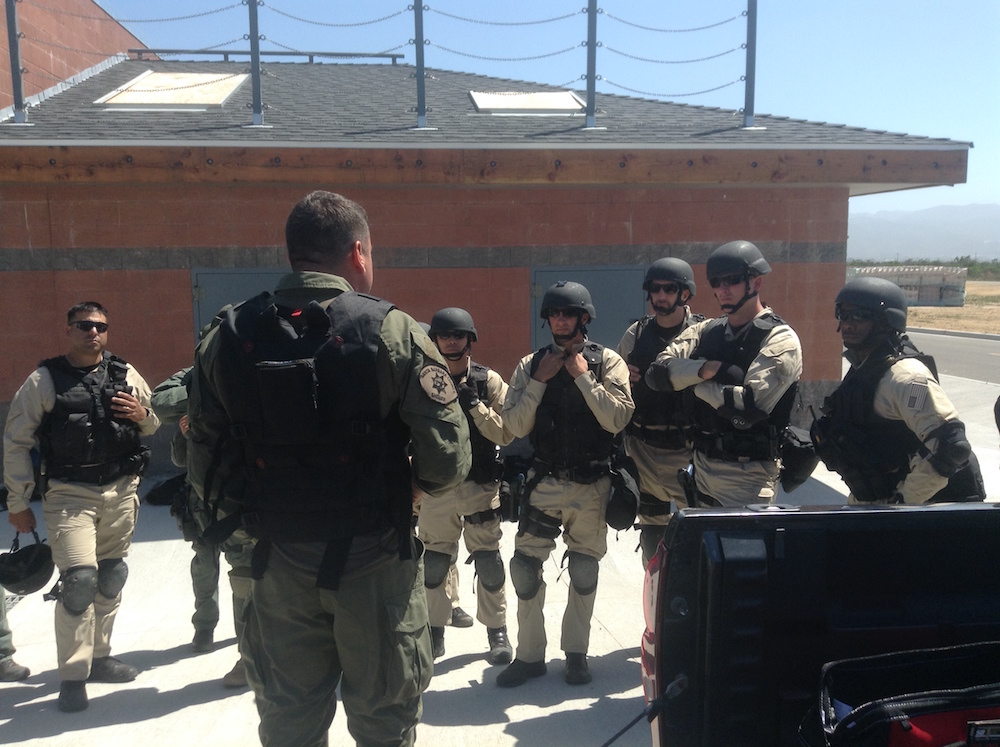 We are excited to collaborate with Garrett Te Slaa of The Squad Room Podcast. As we mentioned in our latest blog post, we recently became sponsors of the podcast that is dedicated to police officer mental and physical wellness, stress management and leadership and is hosted by one of our local sheriff deputies, Garrett Te Slaa. In fact, prior to ever meeting us Te Slaa was (and continues to be) a huge supporter of iCOMBAT training systems and he didn't know that we were based in the community that he patrols. Below is his first guest post!
The explosion happened off to my right, down a long hallway that was quickly filling with smoke. Despite this new threat and the momentary pause it created in my movement, I kept pushing forward towards the threat, hoping that as we cleared the hallway, the guy covering my right flank would save my ass if I had made the wrong choice.
I was the point man so I didn't see that the explosion drew some of my team members in that direction, and it caused others to retreat. For a few seconds (which seemed like minutes), it was like hearding cats to get everyone back on the same page and formed up. I had to make a dash back through the kill zone to regroup. What convinced everyone that I was right to move forward, was when I pointed out that there was still screams coming from somewhere down the hallway in front of us. We crossed the hallway to the right for a second time and by grace or luck we didn't get strafed in an ambush.
The two-story building was enormous and complicated. Two parallel hallways, each several football fields in length, with offices, manufacturing facilities, and perpendicular hallways in between, making escape and the possibility of attacking us from the rear a real threat. To complicate everything, the massive manufacturing rooms had additional interior rooms and catwalks above us accessible from the floor.
We were screwed.
FUBAR.
Threats were left, right, forward, rear, above and below. This sucked.
We knew we had a gunman somewhere in the building. We just had to find him.
We approached a large room with a glass wall that looked out into the hallway. I couldn't tell what purpose it served but it appeared empty. The screams weren't coming from inside so we kept moving. The next room looked small, with a single door and that's where we heard the women screaming.
We'd covered about ¾ of the building to that point without contact and I was beginning to suspect we were chasing a ghost who'd just disappeared. On point, I stepped into a room I was expecting to be small and saw that it was in fact, huge and connected to the last room we past. I cleared left to right, sweeping the threat zone with my rifle level, index finger parallel but itchy. As I sucked in a bit of air to announce "Clear!" I took the first round in my shoulder. It spun me around and I realized that I was alone – that the rest of my team had retreated when they saw what I didn't. Actually I wasn't alone. The gunman had been standing behind the lone pillar to my left that I had swept past in a hurry.
I was now face to face with a man trying to kill me and I was alone. I had taken a second shot to the mid-back as I spun but I was able to recover and send rounds into the suspect, dropping him and ending the threat. The rest of my team had regrouped and entered the room and we got him hooked up and secured.
I was rattled but ok. I'd survive.
That's when the whistle blew. Phew! At least someone else had to take point next time.
The above scenario was real but yes, it was in training. But it couldn't have been more real in the moment. And though I got shot and very much felt it, it was the result of a round from an iCOMBAT Assault Rifle – a replica AR-15 that shoots a laser instead of lead.
Like a ride at Disneyland, we were all curious how they pulled off such a realistic scenario. The explosion was a flash bang, the smoke from a smoke machine, and the screams were piped in with speakers and an iTunes account.
So how did I know that I'd been shot in the back if it was just a laser? Oh, right. That battery pack I'd affixed to my waist before starting the scenario explained that. It sent 5000 volts of attention-getting threat assessment into my body. The information from the vest I wore over my regular duty uniform was able to show me and my team how many rounds had struck me. Downloading the iCOMBAT rifle showed how many rounds I'd shot at the suspect before finally taking him out.
Using the iCOMBAT system allowed us to use an actual office and manufacturing business out in our area. Typically we're stuck with active-shooter training occurring at our training facility – an area that we all know in great and specific detail. There aren't many ways to change up our training bureau to make it new and unique. Being out in public, in a building designed by people who have no foresight for active shooter defense was a real, unique, and awesome challenge.
Because the system was adjustable and portable, everyone in the department was able to participate in the training. Because it was laser-based, we left no trace of our presence in the building. No SIMS paint or paintball rounds splattered over a local business.
Pretty awesome. But humbling.
I learned a lot. I A lot about what I needed to do if ever faced with that situation. I learned that as a sergeant, I had a lot on my plate in that event and that I needed to be clearer about my instructions and my intent. I learned that some of my team members hadn't mentally prepared for such an event, that they weren't ready to be shot. I now had the opportunity to develop training to make us more prepared for the mental challenges of a gun fight.
Bottom line is, iCOMBAT made me better.
-Garrett Te Slaa, The Squad Room Podcast
Posted by SBTactical
On April 15, 2016
0 Comments